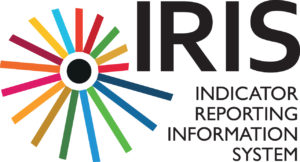 Background & Objectives
With limited resources, many jurisdictions across the globe and at all levels of government struggle to produce consistent, objective, data-driven status and management reports about the environment and its cause-effect relationships with social or economic systems. This may lead to policies and management interventions being made on the basis of incomplete information.
Whilst environmental reporting is essential for effective environmental management current reporting methods are often tedious, slow and labour intensive. Production of multiple reports at monthly, quarterly or even annual intervals can become a significant institutional burden and an ineffective use of scare, expensive subject matter expertise.
The Indicator Reporting Information System (IRIS) is a web-based application that aims to:
1) Reduce the institutional burden of recurring reporting
2) Make reports more timely by reducing their production time
3) Enable reuse and aggregation of information in reports
4) Enable institutional capacity development by sharing reporting knowledge and resources
Indicators are information that tell us in a simple manner about the status of often complex systems. Indicators are at the heart of IRIS and of objective decision making. By automating data processing IRIS will allow institutional staff to be deployed efficiently and focus exclusively on the critical activities that need human involvement such as enabling monitoring data supply channels and indicator assessment. Enabling efficient use of institutional resources will provide decision makers with higher quality, more complete and more timely data to guide their decision making.
Partners
IRIS is being developed by the Abu Dhabi Global Environmental Data Initiative (AGEDI) partnership between the Environment Agency – Abu Dhabi (EAD) and United Nations Environment. The partners represent the two ends of the Local-National-Regional-Global reporting hierarchy. As a sub-national public sector entity, EAD is responsible for local environmental policy and management and undertakes long term environmental monitoring programmes. By a process of successive reporting and aggregation across various tiers of government, data collected by subnational organisations ultimately inform global assessments.
How IRIS works
Based on data from an organization's routine monitoring, IRIS will automatically calculate values for indicators. The calculated indicator value and supporting information are presented to a subject matter expert for assessment and narration, with the result forming part of a report. Several such sections will be brought together along with further over-arching narrative to form the report.  Organisations supporting open data policies have the option for the source data used to be included with the report.
IRIS is designed to provide substantial business benefit to individual organisations at every level (local, national, regional and global) in the reporting hierarchy, but also to facilitate timely and actionable information exchange between organisations.  The output of one IRIS can be used as input to another thus enabling data sharing through the formal reporting process.
IRIS was designed not to be limited to any specific topic area or geography – thus ensuring its applicability and durability. Being indicator independent IRIS facilitates convergence of data streams from different sectors. This capability is essential for sustainable development, which demands an understanding of how decisions in one domain – whether social, environmental or economic – affects and is impacted by others, looking at upstream causes and downstream consequences.
Benefits
A concern in many organisations is the misinterpretation of observation data by individuals less familiar with the geographic context, and this has previously inhibited observation-level data sharing. IRIS will overcome this by keeping the indicator value, the underlying data and the local subject matter expert's narrative "bound" together; thus IRIS supports data sharing, but does so within the context of a local subject matter expert's narrative.
IRIS includes a Shared Knowledgebase (SKB) that allows reporting organizations from across the world to share methods, tools, templates and experiences with other IRIS users across the globe. By design, IRIS will support any indicator that can be automatically computed from data. Given that the science behind indicators is in a state of constant improvement, the core IRIS engine and the SKB will allow the reporting community of practice to benefit from new indicators and methods as they evolve as well as monitor new issues as they arise.
Key Output
The primary output of the IRIS project is the web-application. For organizations that prefer to keep their data in-house IRIS will be available as an intranet solution that runs on local servers. For organizations with more open data policies or those with limited information technology resources, it will be available as secure profile on a remotely hosted web server.
What Next:
Growing IRIS User Community
The technology behind IRIS is continuously being developed and will keep evolving to meet the needs of the wider user community. The aim is for IRIS to eventually be released as an open source.
Deployments
IRIS at Global Level:
UN Environment has been using IRIS to collect environmental data from countries. UN Environment is custodian agency for 26 SDG Indicators in addition to 93 environmental
IRIS at Regional Level
IRIS is currently supporting the implementation of Framework for Development of Environmental Statistics (FDES) in Africa and West Asia. It also supports Reporting for the Portuguese Speaking Countries and the Shared Environmental Information System (SEIS) for the Economic Commission.
IRIS at the National Level
IRIS is being deployed in various countries in Africa, Eastern Europe, Latin and America and the Caribbean (LAC) along with some Small Islands Developing States (SIDS).
IRIS at the Sub-National Level
The Environment Agency – Abu Dhabi are testing and refining IRIS for sub-national reporting.
IRIS for Thematic Issues
IRIS s currently supporting the CITES Mike (Monitoring the Illegal Killing of Elephants) programme helping provide information needed for elephant range states to make appropriate Management.
IRIS for tracking and reporting on UNEA 4 and the Ministerial Declaration – Key Performance indicators is currently under development.
Download the brochure by clicking image